Intensive Image deconvolution workshop/ hands-on
May 14, 2019

-

May 15, 2019

(Deadline: April 20, 2019)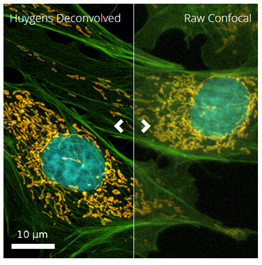 2 days workshop May 14-15 2019 is organized by Danish Bioimaging Network together with Scientific Volume Imaging (SVI), presenting Huygens image deconvolution program.
The extensive Huygens workshop will start with a short introduction on image formation and deconvolution. We will work with different kind of image data and explore how Huygens deconvolution can be a tool to optimize your microscopic imaging experiment, offering you less bleaching issues and faster acquisition time for a wide variety of microscopes, including: widefield, confocal, spinning disc, multi-photon, and super resolution STED systems.
Participation is free for members of Danish Bioimaging Network. For non DBI members fee is 1000kr.
Number of places is limited, for registration, write to vita(at)sdu.dk