LEICA THUNDER WORKSHOP – Copenhagen 12.-14th of November
November 12, 2019

-

November 14, 2019

(Deadline: November 11, 2019)
The 3-day joint workshop organized to introduce the THUNDER family with the THUNDER opto-digital technology that uses the new Computational Clearing method to generate high resolution and high contrast images.
Triolab and Leica Microsystems have organized this joint workshop about Leica's new THUNDER systems. The workshop is open for all who would like to experience the Leica THUNDER family with Computational Clearing either on own samples or on workshop available material.
The THUNDER family defines a new class of instruments for high-speed, high-quality imaging of 3-dimensional specimens. The systems are based on Leica's patented technology of Computational Clearing. With Computational Clearing it is possible to eliminate the out-of-focus blur, allowing for details in the image to become visible momentarily.
This has not been possible before!
We welcome you at the CFIM – Panum – University of Copenhagen on the 12th-14th of November. This is your chance to be among the first to see and try out the new systems and learn about the underlying technology. You can bring your own specimens. And you will get to meet your contacts in Triolab and Leica Microsystems.
We look forward to seeing you at the workshop.
Sign up for the event by writing an email to Martin@triolab.dk and book a personal demo of the systems.
Best regards, Martin Weiss Nielsen, Triolab AS – Leica Microsystems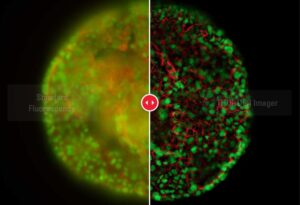 LOCATION
The Core Facility for Integrated Microscopy (CFIM)
Department of Biomedical Sciences Faculty of Health and Medical Sciences
University of Copenhagen
Blegdamsvej 3
2200 Copenhagen N – Denmark
PROGRAM
November 12th Technology presentation 9.00am-10am – Faculty club
November 12th – 14th Workshop sessions
THUNDER Imager 3D Cell Culture
THUNDER Imager Model Organism